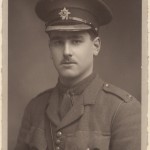 THE tragic tale of the son of an East Sussex literary giant is the latest addition to a website documenting the impact of the First World War in the county.
Rudyard Kipling's only son, John, a lieutenant in the Irish Guards, was killed aged 18 during the Battle of Loos, in northern France, on September 27 1915.
The story of his death, and the impact on his father, has been published on the East Sussex County Council's First World War website, to coincide with the 100th anniversary of his death.
It includes photographs and copies of John Kipling's final letters to his father, who had used his influence to have his son enlisted, John having previously being rejected for service due to his poor eyesight.
In one of his last letters home, dated September 19, John asks his family to send a replacement for his lost identification disc, used to identify those who fell in battle, but he would never receive it.
He disappeared eight days later after leading his men over the top, with his father reportedly uttering 'a curse like the cry of a dying man' upon receiving news his son was missing.
Rudyard, author of famous works such as The Jungle Book, and his wife, Carrie, embarked upon a four-year search for information about John's whereabouts, before finally accepting their son had died in 1919.
Decades later, in 1992, the body of an unidentified lieutenant previously buried in a grave for an unknown soldier was reported to be that of John Kipling, and his gravestone was amended accordingly, although doubt remains in some quarters as to whether it really is his body.
Many said that Rudyard Kipling was never the same again, and interpret his famous poem 'My Boy Jack', about a missing sailor, as representing his turmoil at the disappearance of his only son.
Cllr Keith Glazier, East Sussex County Council leader, said: "Rudyard Kipling was a literary great but he was also a father, and it's clear that his son's death had a profound impact on him.
"The fact that Kipling himself had helped to get John enlisted in the first place, and didn't live to see his son's body located, makes this an even more touching tale."
The story of John Kipling can be viewed online at www.eastsussexww1.org.uk