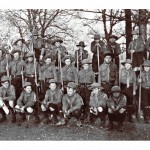 A WEBSITE which commemorates East Sussex's role in the First World War has launched new educational resources aimed at bringing the war and its repercussions into the classroom.
Some of the stories on East Sussex County Council's First World War website have been specially adapted for use by teachers looking to deliver lessons on the war and students studying the period.
The stories, all of which feature people or places within East Sussex, are initially divided into three categories – soldiers, women and children.
Some of the first stories to be added include those focusing on East Sussex war heroes, the role of the Women's Land Army and the curious tale of how children were enlisted to gather conkers, which contained a key chemical element for making munitions.
The text and related photographs, posters, maps and notebook entries can be viewed on the website or downloaded as a PDF resource pack.
The sections for teachers and students will be regularly updated in the months to come, while teachers and website users are being asked to give their feedback, particularly in regard to future stories which could be included as educational resources.
Cllr Keith Glazier, East Sussex County Council leader, said: "The First World War website is doing a terrific job in allowing people to see how the conflict affected us here in East Sussex.
"It's important that children are able to understand the huge impact the war had both on soldiers – many of whom were not much older than themselves – and on the home front.
"We hope this new section of the website will help to bring the war to life for young people and offer a valuable resource for teachers and students alike."
The educational resources can be downloaded online at www.eastsussexww1.org.uk
Anyone who would like to suggest stories which could be used for future educational resources is asked to contact the project on info@eastsussexww1.org.uk