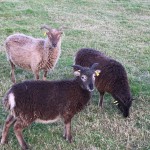 A RENEWED warning has been made to dog walkers using an East Sussex beauty spot as wildlife which graze there are moved to new ground.
Beginning next week (week commencing Monday, October 19 2015), livestock at Chailey Common will be moved as part of the grazing programme aimed at preserving the historic landscape.
A flock of free ranging hardy Soay sheep will begin grazing at Lane End Common and remain there until spring 2016, while Exmoor ponies will graze on Red House Common until late summer 2016.
Dog owners using Lane End Common in particular are being warned to keep their pets under close control after a number of sheep were killed in previous years.
Cllr Carl Maynard, East Sussex County Council lead member for transport and environment, said: "The livestock at Chailey Common are a vital element in preserving this unique habitat for future generations.
"Grazing on the common helps to stop the invasion of trees and plants which threaten the rare habitat, and to open up more of the common for walkers and riders.
"However, no matter how well trained a dog might be, its primeval instincts can kick in if it is allowed to roam free in a field full of sheep.
"We would strongly urge dog owners who walk their pet on the common to keep it on a lead, or use one of the commons where sheep are not grazing."
The changes mean animals currently using Pound, Romany Ridge and Memorial commons will be removed, so motorists will no longer encounter animals when travelling along Beggars Wood Road or North Common Road.
Grazing was reintroduced on Chailey Common in 2012, thanks to funding from the EU through Natural England, with a switch from funding through the Countryside Stewardship Scheme (CSS) to the Higher Level Stewardship (HLS) scheme increasing the money available.
As well as allowing grazing to be reintroduced, the extra funding enabled more mechanical clearance and tree cutting, which is vital to maintaining the open heathland habitat and ensuring the historic landscape can be enjoyed by the public for generations to come.