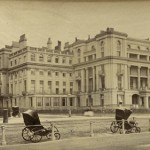 RARE images of a city during its development have been loaned to the archive centre for East Sussex and Brighton and Hove.
More than 200 photographs taken between 1860 and 1880 were found in a scrapbook and show Brighton and Hove at unique stages of development, with buildings and public spaces which have since been lost.
The images have been digitised by experts at The Keep in Moulsecoomb and visitors can now view the entire collection in the centre's reference room.
One photograph taken from the bandstand on the West Pier, looks back on the perfect proportions of Regency Square, bath chairs for hire wait outside the Bedford Hotel (now gone) while a third photograph, taken from the site of Brighton Workhouse – now Brighton General Hospital – shows Elm Grove empty of houses but newly-planted with rows of young elm trees.
The Grand Hotel and Markwell's Royal Hotel, now part of The Queen's, are shown within a few years of being built.  The photographs also reveal the mixture of business and pleasure on the beach – the fish market and fishing boats share it with pleasure boats and the bathing machines.
Christopher Whittick, senior archivist at The Keep, said: "These elegant and fascinating images add a new dimension to our appreciation of the city over 140 years ago.
"We're most grateful to the owner of the scrapbook for allowing us to make copies for people to use and enjoy and would welcome members of the public to The Keep to view this amazing collection."
For more information about The Keep and details of opening hours  visit www.thekeep.info