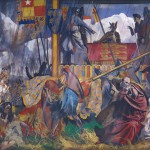 A PIVOTAL moment in British history and its role in shaping Parliament is the subject of a new exhibition coming to an East Sussex archive centre.
The Keep, in Moulsecoomb, will host Magna Carta and Parliament, a free touring exhibition organised by the Parliamentary Archives to mark the 800th anniversary of the sealing of the great charter by King John.
It traces the history of how the charter, which established for the first time the principle that everybody, including the King, was subject to the law,  helped to shape the development of parliamentary democracy.
The exhibition, which runs from November 3 to December 12 2015, also celebrates the 750th anniversary of Simon de Montfort's landmark parliament of 1265, which followed his defeat of Henry III at the Battle of Lewes the previous year.
The display features images of the original copies of Magna Carta and other significant documents, including the Bill of Rights of 1689 and the Representation of the People Act, which equalised the voting age for men and women in 1928.
The exhibition also includes paintings, cartoons and other images depicting monarchs, parliamentarians and others who have played a pivotal role in the development of parliamentary democracy in the UK.
Cllr Chris Dowling, East Sussex County Council lead member for community services, said: "Magna Carta was a hugely significant document which helped to shape the modern world.
"This exhibition will offer a fantastic opportunity to see how the charter has influenced successive generations and how the principles it enshrines are still relevant today.
"It will have a special resonance here in East Sussex as Simon de Montfort's victory at the Battle of Lewes was another key milestone in the development of modern parliamentary democracy."
The exhibition is part of the de Montfort project, an outreach programme being run by the Parliamentary Archives during 2015, which looks at the impact on communities of members of both Houses of Parliament.
As part of the learning and engagement which are important elements of the project, the exhibition is open to educational visits and will offer a selected local school and community group the opportunity to visit The Keep and the Parliamentary Archives to take part in free workshops.
The sessions will be  inspired by the archives of Sir Tufton Beamish, Lewes MP from 1945 to 74, as the starting point for exploring social activism, campaigning and active citizenship.
To coincide with the exhibition, on Thursday, November 12 2015 at 5.30pm The Keep will host a talk on the charter and its aftermath from Professor David Carpenter, of King's College, London – a biographer of Henry III.
More information is available by emailing The Keep at TheKeep@eastsussex.gov.uk or calling
01273482349.