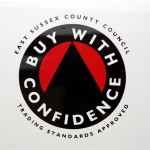 PEOPLE in East Sussex are being warned to be wary of rogue traders aiming to capitalise on damage caused by the recent bad weather.
Storm Barney hit the county earlier this week, leaving a trail of damage in its wake, including fallen trees, damaged roofs and broken fences.
East Sussex County Council is warning that 'cowboy' traders could try and take advantage of the misfortune some residents have suffered – particularly the elderly and vulnerable.
The council is warning people to check the identity of any business person coming to the door, not be rushed into making a decision and use a reputable business for any repair work.
Lucy Corrie, the council's head of communities, said: "It's understandable that if someone has suffered damage to their property as a result of the storm, they want to get it fixed as soon as possible.
"However, it's important that people don't allow themselves to be pressured by doorstep callers into agreeing to work which may be unnecessary, of a poor quality or over-priced.
"It's far better to take the time to seek out a reputable trader, who will do a fair job for a fair price, and who will be contactable in the event of any problems.
"We'd also urge residents to keep an eye out for cold callers who may try and prey on their elderly neighbours."
Anyone who receives a visit from a cold caller and is suspicious about their trading practices is asked to report it by calling the Citizens Advice consumer helpline on 03454 040506.
People can also obtain a door sticker warning cold callers to stay away is available by calling the same number.
A list of reputable traders is available via the Buy With Confidence scheme at www.buywithconfidence.gov.uk