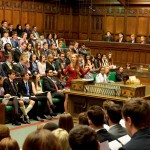 MEMBERS of a youth representative body from East Sussex have taken part in an annual 'takeover' of the Mother of Parliaments.
The county's three representatives on the UK Youth Parliament attended the body's annual debate in the chamber of the House of Commons.
Robin Holmes, George Kyprianou-Hickman, and Charlotte Thomas joined colleagues from around the country to debate issues selected by a national ballot of almost a million young people.
Topics discussed including mental health, public transport and the living wage, while members selected tackling racism and religious discrimination as their national campaign for the year ahead.
The trio, who also represent Lewes, Eastbourne and Bexhill and Hastings respectively on the East Sussex Youth Cabinet, were among 279 young people aged 11 to 18 taking part in the debate on Friday, November 13 2015.
Cllr Sylvia Tidy, East Sussex County Council lead member for children and families, said: "Being elected to the UK Youth Parliament is a fantastic opportunity to take part in the democratic process.
"Our representatives should feel proud at having taken part in a debate in one of the most famous legislative chambers in the world, something which very few people get to do.
"The annual debate in the House of Commons shows that the youth parliament is now a well-established and recognised forum at which young people can make sure their voice is heard."
East Sussex's members of the UK Youth Parliament are selected from members of the East Sussex Youth Cabinet.
Elections for the next youth cabinet are running in schools and colleges across the county until Monday, November 30.
Anyone who is 11 to 18 in East Sussex but doesn't attend a mainstream school and would like to vote is asked to contact the county council's Equality and Participation Team by calling 01273 335 250 or emailing participation.team@eastsussex.gov.uk
Details of all the candidates standing, along with their candidate video and the two issues they would like voted in, can be found online at www.c360.org.uk/bigvote