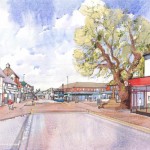 MEMBERS of the public are being asked for their views on the latest stage of a major improvement scheme for Hailsham town centre.
A public consultation on changes to parking orders in the town was launched on November 27 and will run for 21 days.
The planned changes to parking take into account all the comments received during the public consultation last year and subsequent meetings with town traders, emergency services and disability groups that were held in a bid to understand specific concerns.
They include the removal of some parking in the High Street to allow pavements to be widened, safe crossing points to be installed and loading bays and disabled parking bays to be introduced.
Additional parking would be provided in Vicarage Lane while nine free parking spaces would remain for shoppers and visitors in the High Street and would be subject to a 60 minutes limit.
The town centre project is being carried out by East Sussex County Council, in partnership with Wealden District Council, Hailsham Town Council and Hellingly Parish Council
The overall scheme includes changes to junctions will help to ease congestion, while improvements will be made for pedestrians, cyclists, bus users and drivers.
Pavements will be widened, traffic speeds reduced and Vicarage Lane will be made one way to reduce the confusion caused by the existing layout.
Local county councillor Bill Bentley, who chairs of the steering group of the authorities involved, said: "It has taken us longer than expected to get to this point, but now the public has an opportunity to tell us what they think about the changes to parking and I would urge people to do so. It is extremely important to the steering group that the interests of all residents and traders are fully considered."
Details of proposals and information about comment on the orders can be found here
A copy of the draft order, plans showing the lengths of road and a statement of the council's reasons for proposing the order, along with copies of those parts of old orders being revoked can be viewed Until Friday, December 18, 2015 at the following locations;
County Hall, St Anne's Crescent, Lewes BN7 1UE between  9am and 4pm, Monday to Friday
Hailsham Library, Western Road, Hailsham, Monday 2pm – 5pm, Tuesday 10.30am – 7pm, Wednesday, Thursday and Saturday 9.30am – 5pm and Friday 9.30am – 6pm
Wealden District Council, Vicarage Lane, Hailsham, during office hours
Representations must be made in writing and sent to TROs, East Sussex County Council, Communities Economy & Transport, B Floor, County Hall, St. Anne's Crescent, Lewes, East Sussex BN7 1UE or email TROS@eastsussex.gov.uk quoting Ref TRO/349 by December 18, 2015.
Following the consultation, a final decision on the parking orders will be made in early 2016 and work is expected to start in spring.