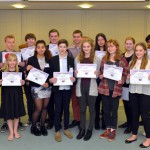 WITH more than 14,000 votes counted and verified East Sussex Youth Cabinet is set to welcome 20 new members.
The Big Vote elections saw 14,258 votes cast for 39 candidates across 30 schools and colleges, with the winners being announced at a special event earlier this month.
Those elected will represent their peers for up to two years, working hard to give them a voice among decision makers.
Harvey Hill, who was elected into one of two seats up for grabs in Upper Rother, said: "I really enjoy voicing mine and others opinions and campaigning on issues close to my heart.
"For this reason I am looking forward to challenging and reducing bullying and abuse over the next two years and hopefully making the local area a safer and more enjoyable place to live for 11-18 year olds."
Ella Rozier and Libby Russell were two of the candidates elected to represent the Wealden area following the month-long election.
Libby said: "Just before I got the news that I was successful in my campaign, I was doubting whether I'd be up to all the work and if I could well represent my peers. But when I was told the good news I knew I'd done right by myself and others by just standing, and I'm so proud of myself and grateful for this amazing opportunity to do good."
Ella added: "Being elected to be a Youth Cabinet member was very special to me because it shows that even some of the quietest people have the opportunity to help change things for many people."
Stephanie Deans, who was elected to represent Hastings and Rother, said: "The Youth Cabinet means to make a difference, to make an impact, and most importantly to make a contribution to the young people."
The achievements of the previous Youth Cabinet include gaining more awareness and subscriptions to the 3i-D card and developing the scheme further. The 3i-D card functions as an identity card, offering additional discounts on bus travel and new discount are being launched in spring 2016 for shop and leisure outlets.
The cabinet also helped to create a new website for young people, www.c360.org.uk by working with web designers and the county council to provide improved online information to young people, from advice and guidance to what groups and clubs are available in the county.
They helped to organise the Inspire Youth Conference and workshops aimed helping young people to develop skills in campaigning to informing the development of Youth Cabinet campaigns.
At a national level, the Youth Cabinet's UK Youth Parliament members have been active on helping to raise awareness of the importance of good quality mental health education and services in East Sussex and contributed to a national report, as part of the Youth Select Committee work into an audit of mental health services and provision in the UK.
Cllr Sylvia Tidy, East Sussex County Council lead member for children and families, congratulated the newest members to take their seats.
"I'm delighted at the level of interest shown in this election, with 39 candidates vying for a seat and nearly 3,000 more votes cast than the previous election in 2013.
"It is great news for democracy that so many young people voted and that so many want to make a difference on the issues that affect them."
The successful candidates were;
Coastal
• Emma Garrood
• Scott LaBouchardiere
Lewes
• Reuben-Hayward Brown
• Molly Edgley
Wealden
• Ella Rozier
• Jazir Kamal
• Tom Hemming
• Libby Russell
• Mikey Loe
Eastbourne
• Melody Moorton
• Indya-Jayne Wardle
• Joseph Fothergill
• Joshua Moreton
• Chloe Ayres
Upper Rother
• Harvey Hill
• Damian Cosgrove
Hastings and Bexhill
• Alisa Brown
• Huda Caglayan
• Orla Phipps
• Stephanie Deans
For more information about the 3i-D  card, visit www.3i-d.co.uk