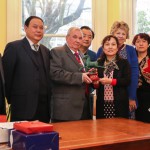 SENIOR judicial officials from China dropped in to East Sussex as part of a fact-finding visit to the UK.
The delegation of six presidents and vice presidents of courts in Gansu Province, in the north west of the country, attended a meeting of the Sussex Police and Crime Panel at County Hall, in Lewes.
The delegates learned more about the role of the panel and the Police and Crime Commissioner whose performance it scrutinises, and about how local government functions in the UK.
They were welcomed by Cllr Colin Belsey, chairman of East Sussex County Council, and Cllr Lionel Barnard, vice chairman of West Sussex County Council.
Cllr Belsey said: "The delegates were very interested in the role of councillors and how matters relating to the police and law and order are dealt with here in the UK.
"It was a nice opportunity to meet with officials from a country with a very different history and culture to our own, and hopefully they found the visit useful.
"The recent visit of President Xi Jinping heralded closer trade links between the UK and China, so mutual understanding and co-operation between our two countries can only be a good thing."
The visiting officials included Jia Jinping, vice president of the Higher People's Court of Gansu Province, Zhao Zhanbin, president of the People's Court of Honggu District in Lanzhou City and Zhang Tianlin, president of the Forest Area Intermediate Court of the Higher People's Court of Gansu Province.
Also attending were Jiang Aiping, vice president of the Intermediate People's Court of Baiyin City in Gansu Province, Zhang Miaoju, president of the People's Court of Linxia County and Yang Zuoxing, president of the People's Court of Lintan County.