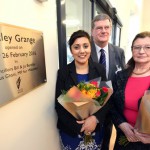 THE official opening has been held for a facility which allows older people with care and support needs to live independently.
The Bentley Grange extra care scheme, in Hailsham, boasts 45 apartments, state-of-the-art facilities including a restaurant, lounges, hairdressing salon and therapy room, and professional care and support to residents.
The £10 million scheme is a partnership between East Sussex County Council, Wealden District Council and housing association Saxon Weald, which owns and manages the complex.
The development, in Battle Road, was declared open by Wealden MP Nus Ghani in a ceremony on Friday (26).
Cllr Keith Glazier, leader of East Sussex County Council said: "It's fantastic to see such a high quality development up and running, providing a modern, safe, welcoming environment for older people.
"The benefit of a scheme like this is that it allows people with care needs, including couples, to live independently, but with the security of knowing that care and support is close at hand if they need it."
David Standfast, Saxon Weald chief executive, said: "Bentley Grange is our 10th extra care scheme and we've used our experience to great effect, creating an attractive and welcoming scheme.
"The facilities and the thoughtful design of the apartments mean that some people find that their care needs actually decrease after they move in, while for many the biggest bonus is the sense of belonging to a community, which tackles the very serious problem of social isolation and loneliness."
The development includes 35 apartments available at an affordable rent to local people with care needs eligible for housing support through the district council, and 10 available to buy on a shared ownership basis.
Cllr Barby Dashwood-Morris, chairman of Wealden District Council, said: "This stunning Extra Care scheme, so close to the town centre, is a welcome addition to the housing provision for the people of Hailsham and the south of the district.
"With our population living longer, we need more affordable schemes like Bentley Grange which help residents to remain independent and part of the community while meeting their increased needs."
The scheme is the sixth extra care development in the county – part of a joint strategy between the county council, districts and boroughs and housing associations aimed at offering more options to older people with care needs and reducing the need for placements in costly residential care schemes.
It is adjoined by Burfield Court, a supported housing scheme for people with learning disabilities, which was developed as part of the overall building contract.
Bentley Grange was handed over to Saxon Weald from builders Bouygues Construction in September last year and currently has 31 residents.
More information about Bentley Grange is available online at www.saxonweald.com or by calling 01403 226000.
Picture caption: (from left) Wealden MP Nus Ghani, East Sussex county councillor Bill Bentley and Hailsham town councillor Jo Bentley