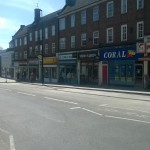 PART of Uckfield High Street has been opened up for short-stay parking for shoppers as work on a major improvement scheme continues.
A section of the newly completed layby on the south west side of High Street has been made available for parking for up to one hour only.
The move is a temporary measure to allow for some High Street parking while the second stage of the Uckfield Town Centre highway improvement scheme continues.
Motorists are being urged not to exceed the one-hour limit, otherwise the scheme may have to be reviewed. It is planned to try and keep open some High Street spaces for shoppers where possible as the work moves up the High Street.
The work includes the introduction of new, high-quality paving, kerbing and street lights, upgrading traffic signals and tree planting to help mitigate surface water flooding.
More information is available at www.eastsussex.gov.uk/uckfield