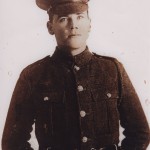 A FIRST World War soldier from Eastbourne will be commemorated with the unveiling of a permanent memorial in the town.
Nelson Carter was posthumously awarded the Victoria Cross – the British Army's highest decoration for valour – for his bravery in the battle which claimed his life on June 30, 1916.
In a ceremony organised by Eastbourne Borough Council and East Sussex County Council, a memorial paving stone will be unveiled in Eastbourne Pavilion Gardens, in Royal Parade, on Saturday, July 2 2016 at noon.
The event is the latest in a series of commemorations of Victoria Cross holders from East Sussex held to mark the 100th anniversary of the conflict.
Commemorative paving stones, which are issued by the Department for Communities and Local Government as part of the First World War centenary initiative, were also laid in Lewes and Seaford last year.
Cllr Pat Hearn, Eastbourne Mayor, said: "Nelson Carter was a true hero who showed incredible bravery in leading his men under intense fire.
"It's very fitting that we honour his memory almost 100 years to the day since his death and that his family and the people of Eastbourne will have the chance to remember him and the sacrifices he made."
Born in 1887, Carter – a doorkeeper at a cinema in Old Town who had been medically discharged after two previous stints in the army – was one of the first volunteers for the new 'Southdown Battalions' of the Royal Sussex Regiment founded in late 1914.
Promoted to the rank of Company Sergeant Major, he commanded the fourth wave of an assault on the Germany army at Boar's Head, near Richebourg-l'Avoué, in northern France – planned as a diversion from the onset of the Battle of the Somme the following day.
The London Gazette reported: "Under intense shell and machine gun fire he penetrated, with a few men, into the enemy's second line and inflicted heavy casualties with bombs.
"When forced to retire to the enemy's first line, he captured a machine gun and shot the gunner with his revolver. Finally, after carrying several wounded men into safety, he was himself mortally wounded and died in a few minutes. His conduct throughout the day was magnificent."
Carter, who was 29 at the time of his death, was survived by his daughter and wife, who accepted the Victoria Cross on his behalf from King George V. A plaque commemorating his life can be found on his home at 33 Greys Road, Old Town in Eastbourne, along with other memorials dedicated to Nelson around Eastbourne.
The memorial paving stone at The Pavilion will be unveiled at a ceremony which will include readings from his grandson, Spyke Baker, and by local children from Langney Primary School.