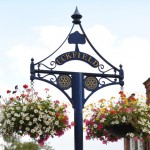 CHANGES will be made to traffic management in Uckfield town centre next week as improvement work continues.
The adjustments, due to come into effect on Tuesday, June 28, will allow work to progress on the second stage of the highways scheme between Bell Lane and Church Street.
Lights currently controlling traffic in Church Street will be removed and the two way flow will be resumed between Library Way and Church Street.
Temporary three way traffic lights, with a pedestrian crossing facility, will be in place at the Bell Lane junction. This is being introduced earlier than originally planned.
The southbound one way system will remain in operation between Library Way and the Bell Lane junction.
The scheme, which affects the High Street between Bell Lane and Church Street, began at the start of the year and is scheduled to last for eight months.
It will include pavement widening, new street furniture, upgraded traffic lights, 23 short-term parking spaces and one disabled bay and planting to help mitigate surface water flooding.
The traffic management is designed to allow current access as much as possible except the areas where Colas, the contractor appointed to carry out the scheme are carrying out work.
The highway improvement scheme, funded by around £3 million of developer contributions, is aimed at reducing congestion and ensuring the town centre can cope with traffic arising from new housing development.