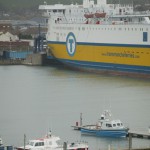 A SERIES of cultural events in Sussex is being promoted across the Channel in a bid to capitalise on tourism.
East Sussex County Council wants to make the most of the continuing tourism created by the Newhaven to Dieppe ferry service and encourage visitors to stay in the county.
The programme of events has been published by the Transmanche Operational Partnership (TOP) – a meeting of partners with an interest in securing the future of the line, which includes East Sussex County Council, Lewes District Council and Newhaven Town Council.
"We work closely with partners on both sides of the Channel to ensure that visitors coming into the port are aware of everything East Sussex has to offer," said Cllr Rupert Simmons, lead member for economy.
"The Newhaven to Dieppe ferry is a wonderful resource bringing large numbers of tourists to our county, and we want to make absolutely sure that the economy of East Sussex is reaping the benefit of this.
"Our towns and villages have so much to offer, with plenty to do, wonderful sights and some extremely interesting history.  We need to ensure that East Sussex does not become an area to simply pass through, but a destination for tourism."
Events being publicised by the partnership include;
• The Glyndebourne Festival Opera  – May to August
• Lewes Speakers Festival – Friday, July 22 to Sunday, July 24
• Brighton Pride Festival – Friday, August 5 to Sunday, August 7
• Airbourne, Eastbourne International Airshow – Thursday, August 11 to Sunday, August 14
• Artwave – Artists and Makers festival, Lewes – Saturday, August 20 to Sunday, September 4
• Rye International Jazz Festival – Thursday, August 25 to Sunday, August 28
• Heritage Open Days, Sussex – Thursday, September 8 to Sunday, September 11
• Small Wonder Short Stay Festival , Charleston – Wednesday, September 28 to Sunday, October 2
• ROOT1066 Festival of Contemporary Arts, Hastings, Bexhill, Battle & Normandy – Friday, September 9 to Sunday, October 2
• Lewes Octoberfeast – Friday, September 16 to Sunday, October 2
• Brighton Comedy Festival – throughout October
• Tudor Christmas at Michelham Priory, Upper Dicker – Saturday, December 3 to Sunday, December  4
Websites www.staylewes.org,  www.lovesussex.com and www.coastalculturetrail.com are also being promoted in a bid to boost tourism in the area.
Cllr Simmons added "We hope the partnership's effort increases attendance at these cultural events, encourages visitors to find out what East Sussex has to offer and brings a welcome boost to the tourism industry in the county."
An announcement on the future of the cross channel ferry route is expected in early autumn.
Bids were invited to run the service following a complaint about the contract between Syndicat Mixte de Promotion de l'Activité Transmanche (SMPAT) and operator DFDS, and a ruling by a French court that the contract was void.