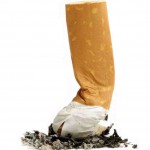 SMOKERS in East Sussex are being urged to take the Stoptober challenge – and kick the habit for good.
East Sussex County Council is backing the national Stoptober campaign, which encourages smokers to quit for 28 days during October 2016.
The initiative is based on research which shows people who stop smoking for 28 days are five times more likely to quit the habit for good.
People taking part in Stoptober can benefit from a range of support via an app, email and social media, including Facebook Messenger.
They can also find out more about the expert face-to-face support local stop smoking services can offer, and the different types of stop smoking aids available, including patches and e-cigarettes.
In East Sussex, 18 per cent of adults smoke, but rates vary across the county with the highest proportion of smokers in Hastings, where a quarter of adults regularly light up.
Cynthia Lyons, East Sussex Acting Director of Public Health, said: "We all know that smoking is bad for our health – in fact it's the biggest cause of preventable deaths across the country – but stopping can be difficult.
"Quitting for 28 days is an achievable target and once someone passes this relatively modest milestone they're far more likely to stop for good, improving their health and possibly adding years to their life.
"By taking up the Stoptober challenge, people can benefit from the wide range of support available to help them quit, and also have the added boost of knowing they're joining thousands of people across the country in making a positive change to their life."
Local specialist stop smoking advisors Quit 51 offer friendly advice and support to anyone thinking about quitting and can be contacted online at www.quit51.co.uk or by calling 0800 622 6968.
More information about Stoptober is available online at https://stoptober.smokefree.nhs.uk/
Smoking rates among adults in East Sussex (2015)
Hastings: 25.6 per cent
Eastbourne: 18.8 per cent
Lewes: 17.7 per cent
Rother: 15.7 per cent
Wealden: 14.3 per cent
East Sussex average: 18 per cent
England average: 16.9 per cent
Source: Local Tobacco Profiles 2016