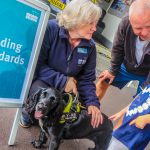 MORE than 2,000 cigarettes and seven kilos of rolling tobacco were seized as a result of events aimed at highlighting the illegal tobacco trade.
Earlier this month (September 2016), East Sussex Trading Standards held roadshows in Eastbourne, Hastings, St Leonards and Bexhill, featuring the sniffer dogs used to hunt down illegal tobacco products.
Trading Standards spoke about the issue with almost 600 people, and the information provided led to raids at two shops in Bexhill and at shops in Hastings and Hailsham.
As a result, officers seized 2,070 cigarettes – a mixture of counterfeits of genuine brands and so-called 'cheap whites' – made-up brands created by criminal gangs specifically for the black market.
Officers also found 7.25kg of hand rolling tobacco and are now making further investigation into the shops where the illegal goods were found.
Cllr Chris Dowling, East Sussex County Council lead member for community services, said: "As well as being a great way to spread the word about illegal tobacco, the events also allowed us to get some really valuable intelligence from the public.
"The information provided led to a significant quantity of cigarettes and rolling tobacco being seized, and investigations are continuing into the premises where they were found.
"The illegal tobacco trade puts people's health in jeopardy, risks encouraging more young people to smoke and places money into the pockets of criminal gangs.
"We received some really positive feedback from the people we spoke to at the events, and people loved meeting the sniffer dogs and seeing how they work."
Anyone with information about illegal tobacco sales is urged to report it by calling the illegal tobacco helpline on 0300 999 6999 or online at www.stop-illegal-tobacco.co.uk