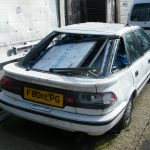 A COUPLE who turned their residential property into an unauthorised 'scrap yard' have been hit with a court bill of more than £4,000.
John Mallows, 66, and his wife June, 65, allowed scrap metal, other waste and cars to be deposited and stored at the rear of their property in London Road, Hailsham.
The pair denied breaching the requirements of an official planning notice issued by East Sussex County Council prohibiting them from using the property to store waste materials.
However, in a trial at Eastbourne Magistrates' Court on Friday, December 9 2016 they were both found guilty and sentenced to a joint fine of £2,000 and ordered to pay £2,250 in costs and a £200 victim surcharge.
Cllr Carl Maynard, East Sussex County Council lead member for transport and environment, said: "The condition of the area at the rear of the property, which is within a residential area, was appalling and prompted numerous complaints to be made to the council.
"Formal enforcement action is always a last resort but unfortunately in this case we were left with no option as despite repeated attempts to resolve the situation, the couple failed to clean up the mess.
"This sentence should send out a strong message that we will not tolerate people who continually and flagrantly breach planning control on waste matters to the detriment of the locality."
The court heard the Mallows had been issued with a planning enforcement notice by the county council in December 2014 prohibiting them using their land for the importation and storage of waste.
However, after initially complying with the notice, the couple lapsed into their old ways and the junk began to pile up again, prompting the council to initiate court action.
The pair were warned that if they did not clear up their land and stop using it to store waste there, they could be liable to further prosecution.