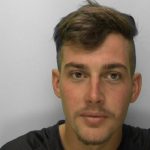 A ROGUE builder who tricked elderly residents into paying large sums of money for unnecessary work has been jailed for 16 months.
William Jones (pictured), of Butts Field, Hailsham, conned three victims into paying a total of £25,850 for work to their roofs between March and May 2016.
The 22-year-old pleaded guilty to five charges of fraud and two counts of entering into a money laundering agreement when he appeared at Lewes Crown Court on Monday, December 12. He was sentenced to 16 months for each offence to run concurrently.
Jones approached each victim claiming to be the son of a builder who had passed away and who had carried out previous work on their properties.
Jones told one victim that, while carrying out initial repairs, he had found substantial problems with his roof. Having taken £6,000 from the 81-year-old, Jones claimed he needed to go to hospital and would return to complete the work, but never did.
A surveyor could not find evidence of repairs having been carried out and the little work that had been done had compromised the roof. The homeowner now faces further costs to repair the damage caused.
Another victim, a 96-year-old, paid Jones £9,000 by cheque. The payment was stopped when attempts by Jones to pay the cheque into his partner's account raised concerns with the bank, who reversed the transaction and returned the cheque.
It was a call from a 69-year-old victim to the Citizen's Advice Consumer Helpline that resulted in Sussex Police arresting Jones.
The woman had been told that the mortar on ridge tiles needed replacement and some repair work was needed to the corner of the roof. Jones later told her that an entire section of roof needed to be replaced because it was rotten.
She paid a total of £10,850, but became concerned at how quickly the work was completed and the small amount of tiles and rotten wood she saw being removed and taken away and called the Citizen's Advice helpline.
Investigations by East Sussex Trading Standards found the work carried out on this property was unnecessary, overpriced and substandard. The victim now faces a further bill for more than £1,000 to correct the work.
"These were despicable acts which have no doubt taken their toll on three vulnerable residents, two of whom have been left thousands of pounds out of pocket," said Cllr Chris Dowling, East Sussex County Council lead member for community services.
"Thanks to the hard work and dedication of Trading Standards officers and Sussex Police, Jones is now behind bars," he added. "I hope this sends out a message to others rogue traders that we will do everything we can to get justice for our residents.
East Sussex County Council will be seeking compensation for the victims and a confiscation hearing is due to take place on May 15, 2017.
Advice for residents is available online.
Residents needing general consumer advice or wanting to complain about problems with goods and services can contact Citizens Advice consumer service on 03454 04 05 06. The helpline is open Monday to Friday from 9am to 5pm.