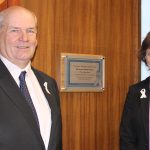 A PLAQUE has been unveiled marking a council's commitment to tackling domestic and sexual violence and abuse.
East Sussex County Council has been reaccredited as a White Ribbon authority, two years after it became only the second county council in the country to receive the designation in 2014.
White Ribbon status is awarded by the White Ribbon Campaign, the UK branch of a global effort to stop male violence against women.
It recognises the council's commitment to working to end violence and abuse, ensuring survivors can access help and support and recognising the role the wider community can play in preventing violence and abuse.
The authority is part of Safe In East Sussex, the county's Safer Communities Partnership, which aims to reduce acceptance of violence and abuse so women can have safe, violence-free relationship.
The plaque, situated on the entrance to the council chamber at County Hall, in Lewes, was unveiled by council leader Cllr Keith Glazier and chief executive Becky Shaw.
Cllr Glazier said: "We're very proud to have been one of the first county councils in the country to achieve White Ribbon status and to have been reaccredited recently.
"It sends out a message that as a council we will not tolerate violence or abuse against women and will work with our partners to ensure victims get the help and support they need."
Anyone affected by domestic or sexual abuse or violence in East Sussex or Brighton & Hove should contact The Portal, a partnership of leading domestic and sexual abuse charities.
It can provide details of help, advice and support available and can be contacted via its website at www.theportal.org.uk or by calling 0300 3239985.
Anyone requiring access to a refuge in East Sussex should call 0808 2000247.