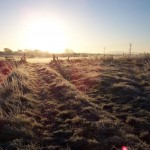 STATEMENT FROM EAST SUSSEX COUNTY COUNCIL
"We will not be selling or transferring ownership of any of our countryside sites to a private company.
"They will remain open to everyone and we want to ensure they're managed and improved for the benefit of all visitors, now and in the future. 
"We think this might best be ensured by passing some countryside sites into the care of not-for-profit organisations who are more experienced in conservation, community involvement and visitor engagement than the county council. This has already worked well in the case of Rye Harbour nature reserve which is now run very successfully by the Sussex Wildlife Trust. Our priority is the interest of residents and of visitors who enjoy the East Sussex countryside: we know people hugely value these sites and their heritage.
 "In 2016 we carried out a public consultation on this approach which will inform the shape of our final strategy. The strategy was considered in public at Cabinet in April 2016.  
Note to editors
East Sussex County Council currently manages 10 countryside sites across the county. This includes Seven Sisters Country Park, which covers around half of the Cuckmere Haven. Six of the ten sites are owned by the county council, with the others being managed by the county council on behalf of other organisations.
Full details of the Cabinet discussion of the strategy can be viewed here https://democracy.eastsussex.gov.uk/ieListDocuments.aspx?CId=133&MId=2601&Ver=4