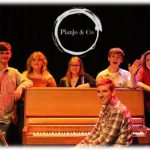 A FOLK-rock ensemble made up of students at East Sussex Academy of Music have been invited to perform at the prestigious finals of the Music for Youth National Festival.
Pianjo & Co are one of a limited number of young musicians across the country to be invited to the event in Birmingham on Saturday, July 8, following intense regional competitive heats.
John Sims, Head of East Sussex Academy of Music (ESAM), said: "We are delighted that the remarkable talent of Pianjo & Co is being recognised on a national stage and we are immensely proud of the achievements of our students.  Pianjo & Co reflect the dedication and exuberance that embodies our students here at ESAM, and we wish them every success at the national festival."
Pianjo & Co is one of East Sussex Academy of Music's Pre-Professional Ensembles. The East Sussex Academy of Music, run by East Sussex Music, is based in Lewes and provides a unique place for young musicians to study.
Students can study Music and Music Technology, including A Levels and BTEC courses and the Pre-Professional course, which gives them access to excellent coaching and advice from professional musicians.
East Sussex Academy of Music students are passionate about their future, and this often includes working in the music industry.  Many go on to study music at Higher Education, in colleges, universities and in some of the best conservatoires in the world.
For more information about Pianjo & Co and the East Sussex Academy of Music, contact East Sussex Music on 01273 336770 or email music@eastsussex.gov.uk