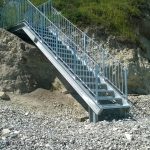 ACCESS to the beach at the foot of an East Sussex beauty spot has been restored after fire-hit steps were replaced.
The wooden steps at Cow Gap, near Beachy Head, were destroyed in a suspected arson attack in December 2016, cutting off access to beaches at the foot of the famous cliffs.
Now, East Sussex County Council's rights of way team has replaced the steps with a new metal structure, reconnecting the beaches with the clifftop footpaths.
Cllr Nick Bennett, East Sussex County Council lead member for transport and environment, said: "The steps provide a vital link to some of the county's most picturesque beaches and a spot popular with walkers and fossil-hunters.
"The fire damage to the previous steps was so severe that it had to be completely replaced, meaning we had to order an entirely new, bespoke staircase.
"The new structure is more durable than the old one and means visitors can once again enjoy access to one of the hidden gems of our natural landscape."
The shoreline below Beachy Head features a mixture of shingle and sandy beaches, including Falling Sands, which offers a stunning vista of the iconic cliffs and Beachy Head Lighthouse.
Visitors are urged to make sure they check tide times before venturing on to the beaches, large sections of which get cut off by the sea at high to medium tide.
More information about countryside sites and rights of way in East Sussex is available online at www.eastsussex.gov.uk/rightsofway