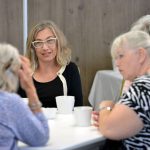 A SCHEME which helps vulnerable people to live independently in their own homes is appealing for new recruits.
Support With Confidence, run by East Sussex County Council, enables people to choose a personal assistant or other care provider who's been vetted and approved for quality, safety and training.
The scheme currently has 176 members across the county but is looking to recruit new accredited personal assistants, who support people with domestic tasks and personal care and help them get out and about.
The call was made after the latest 11 new Support With Confidence recruits were welcomed in a ceremony in Eastbourne.
Cllr Carl Maynard, county council lead member for adult social care, said: "Support With Confidence allows people to have the peace of mind of knowing they're employing someone they can trust.
"The latest recruits can feel proud that they're part of a scheme which is playing a vital role in helping people live independent lives, but we need more recruits.
"It could be someone who's already providing care and support services or someone who's interested in becoming a personal assistant – perhaps having had some experience of caring for a friend or family member.
"Once accredited, members are able to advertise their services through the scheme's online directory and receive ongoing training, support and advice."
As well as personal assistants, new recruits to Support With Confidence include providers of home care, community support services, day services for people with dementia, mental health outreach services and independent financial advisers.
Anyone who's interested in becoming an accredited personal assistant is asked to call 01323 463440 or email supportwithconfidence@eastsussex.gov.uk
The Support With Confidence scheme is run by the county council's Adult Social Care and Trading Standards teams. More information is available online at www.eastsussex.gov.uk/supportwithconfidence