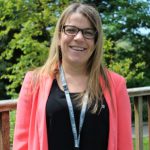 AN AWARD winning trading standards officer has received royal recognition for her passionate and determined efforts in protecting residents from financial fraud.
Louise Baxter, who heads up the National Trading Standards Scams Team, hosted by East Sussex County Council on behalf of National Trading Standards, is to be made an MBE in the Queen's birthday honours.
"I couldn't believe it when I received the letter, it feels surreal," said Mrs Baxter, who has worked with the council for more than 14 years. "It feels amazing to be recognised by your peers and to know that they think I am worthy of this.
"But it is a team effort and we work really hard to champion scam victims, and to give a voice to the people who are targeted by criminals. The support I get from my colleagues means I can spend the time campaigning and promoting our work."
Her previous role with East Sussex County Council meant she would often meet with victims of scams when it was too late and it was this that drove her to develop the national scams team.
"As a trading standards officer I have always focused on consumer advice and education – I strongly believe that protection is better than cure – and we have worked with mail providers, law enforcement and local authorities to identify possible victims and disrupt criminals," she said.
Since the team launched in 2014, around 300,000 people who are being targeted by criminal scammers have been identified across the country and officers have delivered savings of over £50 million to consumers.
Lucy Corrie, head of communities at East Sussex County Council, said: "I am delighted that Louise's hard work has been recognised with this accolade, which is richly deserved. She has fought tirelessly on behalf of potential victims and has been so successful in preventing hundreds of thousands of people from losing millions to these unscrupulous scammers.
"It is great to see that her passion and dedication has been rewarded in such a prestigious way."
Lord Toby Harris, Chair of National Trading Standards, said: "Having worked closely with Louise over the last few years I have had the opportunity to see first-hand her infectious passion for helping others.
"In both her role leading the Scams Team, which has seen the Team identify around 300,000 potential scam victims and delivered savings of over £50 million to consumers, and through her voluntary work she makes an enormous contribution and I am delighted that has been formally recognised."
Mrs Baxter will be invited to receive her MBE for services to the protection of vulnerable people from financial abuse and plans to take her husband, sister and mother.
In 2015 Louise Baxter was given the Hero Award from the Chartered Trading Standards in recognition of the significant contribution she has made to consumer protection.