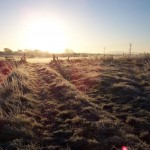 A STRATEGY to secure the future of countryside sites across East Sussex will be discussed by cabinet next week.
Members will be asked to approve the Countryside Access Strategy, which sets out how East Sussex County Council's 2,000 miles of footpaths, bridleways and byways and 10 countryside sites are managed in the future.
The plan, which was put together following an extensive study looking at how people use public rights of way and countryside sites, was subject to a consultation last year – the results of which will be presented to cabinet on Tuesday, June 27.
The strategy would see the county council continue to manage and maintain public rights of way and two of its countryside sites – the Cuckoo Trail and Forest Way Country Park.
If approval is given, the authority would look to transfer management of the remaining eight countryside sites – including Seven Sisters Country Park, Ditchling Common Country Park and Camber Sand Dunes – to other organisations
"We want to ensure these sites are managed and improved for the benefit of all visitors, now and in the future," said Karl Taylor, East Sussex County Council assistant director for operations.
"We believe the best way to do this is by passing the management of some countryside sites to not-for-profit organisations who are more experienced in conservation, community involvement and visitor engagement than the county council. This has already proven successful in the case of Rye Harbour Nature Reserve which is now run by Sussex Wildlife Trust."
Cabinet approval would mean officers can enter into discussion with interested parties including the National Trust, Sussex Wildlife Trust and South Downs National Park Authority.
Mr Taylor added: "We can assure residents that we will not be selling or transferring ownership of any of our countryside sites to a private company. Whatever the outcome, these sites will remain open to everyone."
Discussions about the strategy will be available to watch live on Tuesday, June 27.
East Sussex County Council currently manages 10 countryside sites across the county. This includes Seven Sisters Country Park, which covers around half of the Cuckmere Haven. Six of the ten sites are owned by the county council, with the others being managed by the county council on behalf of other organisations.