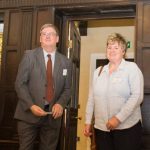 A THREE year project to transform a Grade II* listed manor house into a stunning venue for ceremonies and celebrations has come to a close.
East Sussex County Council project manager Carol Burns was joined by Cllr Bill Bentley, lead member for communities, to cut the ribbon and officially open Southover Grange in Lewes.
The event brought to a close a £1.5million project to refurbish the 16th century building and create new ceremony rooms and a fully accessible register office.
"Our staff and contractors have done an amazing job transforming this building into the stunning venue we see today," said Cllr Bentley. "As well as creating an attractive option for anyone planning a ceremony or celebration, the team's hard work has safeguarded the future of the building for generations to come."
"The history and charm of the building remains intact and we have a Register Office we can be proud of – a flagship venue for East Sussex."
He added: "I am delighted to say that the venue has already proved popular with 44 wedding ceremonies being booked within the first five hours of the phone lines opening in February, and we have 248 ceremony bookings currently confirmed for Southover Grange."
While planning for the refurbishment project started in May 2014, work didn't start on the building until May 2016. Southover Grange was opened for births and deaths registration in April this year and the first public ceremonies took place in May.
The official opening on Monday, June 12, was attended by the council's registration team, councillors and senior managers from East Sussex County County, as well as representatives from Cheesmur, NPS and Gleeds – the contractor, architects and quantity surveyors involved in the project.
Also in attendance was the Deputy Mayor of Lewes Town Council Janet Baah, Steve Ralph from the General Register Office and Carlotta Luke, a photographer who chronicled the transformation of the building.
For more information or to book an appointment online visit www.eastsussex.gov.uk/registration
East Sussex County Council and Lewes District Council officially exchanged Southover Grange and The Maltings in July 2014. The move will ensure the future of the two landmark Lewes buildings.
The county council previously leased part of the first floor of Southover Grange for its register office.
Planning permission for the work was granted by Lewes District Council in April 2016.
The building also continues to house a shop and gallery for the Sussex Guild – a partnership of artists and craftsmen – and a cafe in use during the summer months.