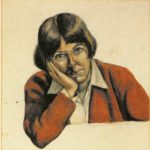 THE LIFE and work of an artist whose Sussex home became a creative hub for her peers will be the focus of a talk at The Keep next month.
Peggy Angus and British Women Artists – a talk by author and artist Carolyn Trant – will take place on Wednesday, July 12, at the county's archive centre in Moulsecoomb.
Chilean-born Peggy Angus, daughter of a Scottish railway engineer, became a student at the Royal College of Art after winning a scholarship in 1921, and studied alongside Eric Ravilious.
Her Sussex home, Furlongs on the Sussex Downs near Lewes, later became a creative hub for Ravilious, John Piper, Percy Horton and many others who, while creating their own work, were encouraged to contribute to the interior decoration of the house itself.
Peggy Angus was best known for her tile and wallpaper designs and her paintings of the family of the first Labour Prime Minister, Ramsay MacDonald, and of fellow artist John Piper hang in the National Portrait Gallery.
The talk by Lewes-based artist Carolyn Trant, who designed the concrete frieze that wraps around the exterior walls of The Keep, was inspired by her forthcoming book – Voyaging Out; British Women Artists 1910-1960- and will focus on those associated with Peggy Angus, whose archive is held at The Keep.
A selection of material from the Peggy Angus archive will also be on display on the day.
The talk on Wednesday, July 12, takes place between 2.30pm and 3.30pm, tickets cost £3 and pre-booking is essential. For more information and to book a place visit www.thekeep.info/events or call 01273 482349.