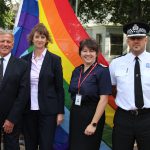 COUNCIL and emergency services chiefs gathered to fly the flag to celebrate this weekend's Brighton Pride celebrations.
The rainbow banner was hoisted aloft at County Hall, in Lewes, as East Sussex County Council marked its support for the event and the lesbian, gay, bisexual and transgender (LGBT) community.
Deputy leader Cllr David Elkin and chief executive Becky Shaw were joined by Sussex Police assistant chief constable Laurence Taylor and Dawn Whittaker, chief fire officer at East Sussex Fire & Rescue Service.
Meanwhile, South East Coast Ambulance Service (SECAmb) was represented by Steph Meech, specialist paramedic and deputy chair for Pride in SECAmb staff network.
Cllr Elkin said: "We're always delighted to raise the flag to show our support for Pride and our commitment to supporting equality and diversity within the council and across the county as a whole."
Assistant Chief Constable Laurence Taylor said: "With Pride organisers and partner organisations, we want to promote an inclusive and enjoyable atmosphere for all. We look forward to seeing you there and wish you a fun Pride 2017."
Chief fire officer Dawn Whittaker said: ""Brighton Pride as an event is important to East Sussex Fire and Rescue Service. Taking part in the Parade, being at the Park and flying the Pride flag gives us, as a public service, the chance to show that we are here to support all members of our communities and also to promote and support the diversity of our own workforce too.
"When the celebrations are all over, we want people to know that we are still here, to keep them safe and ready to help them when they need us most."
Specialist paramedic Steph Meech said: "I'm honoured to represent the ambulance service alongside my emergency service and council colleagues. SECAmb's involvement in the ceremony and the wider Pride event demonstrates its commitment to be a truly diverse Trust engaging in the community that it serves and actively promoting diversity in its workforce."
Pride gets into full swing with the now traditional parade starting from Hove Lawns on Saturday, August 5 2017 at 11am, before the Pride Summer of Love Festival, headlined by the Pet Shop Boys, gets underway at Preston Park.
Meanwhile, across the weekend a host of entertainment is on offer at the Pride Pleasure Gardens, in Old Steine and Victoria Gardens, while the Pride Village Party will attract big crowds to St James's Street and Marine Parade.
More information about the event is available online at www.brighton-pride.org