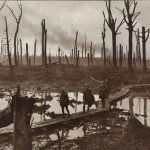 THE tale of one of World War One's bloodiest battles is the 150th story to be published as a website tracing East Sussex's role in the conflict marks its third anniversary.
Three years ago on Friday (Aug 4), East Sussex County Council's First World War website was launched to showcase the lesser known stories of the people and places of the county during the war.
Since being set up to coincide with the centenary of war being declared, the site has attracted around 200,000 visitors from over 180 countries – with 79 of the 150 stories published provided by the public.
The latest addition is the story of the role played by East Sussex soldiers in the Battle of Passchendaele – also known as the Third Battle of Ypres – which began on July 31 1917, lasted more than three months and claimed an estimated 500,000 lives.
Cllr Keith Glazier, county council leader, said: "Since it was launched, the website seems to have really captured people's imagination and brought to life what life was like during the war for people from East Sussex.
"One of the aims of the project was to get local people involved so it's gratifying to see that many of the stories shared have been provided by members of the public."
The website also includes digitised versions of East Sussex newspapers published during the war and resources for schools, while a new addition this year has been scans of propaganda posters unearthed in the archives of East Sussex libraries.
It also features 'then and now' photographs merging shots of East Sussex locations during the war with contemporary scenes, produced by Hastings-based photographer Kieron Pelling.
Mr Pelling said: "It has been my privilege to help East Sussex WW1 in its work to commemorate the county's contribution to the war effort and to watch the website grow over the last three years. I hope that the then and now images I've created have helped to provide a different way of showing how the war impacted on the daily lives of those on the home front."
Steve Manwaring, chairman of the East Sussex Strategic Partnership, is a supporter of and contributor to the website.
He said: "I have been amazed and impressed by the way the project has brought to life key events and their connection to East Sussex. Together with members of the community it has built an invaluable record which will be an important permanent resource."
The project is due to run until November next year, the centenary of the end of the war. The content will be archived on the website of The Keep, the county archive centre, so it can be accessed by future generations.
The East Sussex World War One website can be found at www.eastsussexww1.org.uk