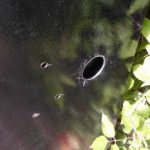 PEOPLE are being urged to be vigilant for thieves targeting parking machines in East Sussex.
In the latest incident, criminals drilled into one of the pay and display machines in King Edwards Parade, Eastbourne, in a failed attempt to steal money.
The incident, which was reported on Friday, July 28 2017, follows a spate of similar incidents reported by local authorities around the country.
East Sussex County Council is urging people to report any suspicious activity around parking machines to the police.
Cllr Nick Bennett, East Sussex County Council lead member for transport and environment, said: "Unfortunately these kind of incidents seem to be on the increase around the country.
"While the criminals in this case escaped without managing to take any money, it is nevertheless taxpayers who will have to foot the repair bill.
"We or our contractors would never drill into a parking machine so if anyone sees this happening, even if the culprit is wearing a high-visibility vest or appears to be legitimate, we'd urge them to call the police."
The council says all its cash boxes are emptied daily – meaning any cash gain to thieves would be minimal – and it will take any action necessary to prosecute anyone found vandalising its machines.
Anyone with information about attacks on parking machines is asked to call Sussex Police on 101, or dial 999 if a crime is in progress.