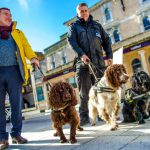 TRADING Standards Officers and their sniffer dogs will take to the streets of East Sussex this week to ask for the public's help in tackling the sellers of illegal tobacco.
Illegal tobacco is known to make it easier for children to start smoking, as it is sold at cheap prices and there is evidence that its sale is linked to organised crime groups.
Trading Standards officers from East Sussex County Council will be joined by specially-trained tobacco detection dogs, Scamp, Phoebe and Yoyo, at the Illegal Tobacco Mobile Unit at the following locations:
• Monday, August 21: Hastings Town Centre, Robertson Street (by Debenhams)
• Tuesday, August 22: Asda Superstore, St Leonards on Sea
• Wednesday, August 23: Eastbourne Town Centre, Terminus Road
• Thursday, August 24: Tesco Extra, Eastbourne
The dogs, which are all ex-rescue dogs, have already helped officers sniff out thousands of pounds worth of illegal tobacco, which is often hidden behind fake walls or in unusual locations both inside and outside shops.
Information about where illegal tobacco is being sold often comes from members of the public. This initiative, which is part of 'The Keep It Out' campaign aims to help the public know what illegal tobacco looks like; what the dangers are, and encourages them to keep their eyes open and report illegal tobacco being sold in their neighbourhood.
Anita Counsell, head of health improvement said: "Smoking remains one of the biggest causes of premature death in East Sussex. The availability of illegal tobacco undermines all our efforts to address the health harms of smoking, because cheap tobacco sold at pocket money prices makes it harder for people to give up smoking, and easier for children to start smoking.
"We need the help of our communities to tackle this major threat to health. I'd urge anyone who knows where illegal tobacco is being sold to get in touch."
Cllr Bill Bentley, lead member for communities, said: "The trade in illegal tobacco has links with organised crime, so anyone buying cheap cigarettes or tobacco is putting money into the pockets of criminals which can be used to fund other illegal activity.
"Illegal tobacco will be manufactured in uncontrolled conditions so nobody knows what they are buying.
"We hope these events will allow us to show people how we're tackling this unscrupulous trade and give them a chance to see the fantastic work of the sniffer dogs, who are always very popular with the public. Please tell us about where illegal tobacco is being sold, either in person at our mobile illegal tobacco unit, go online or via our hotline."
The sale of illegal tobacco is a criminal offence. Anyone wishing to report the selling of illegal tobacco can report anonymously online to Trading Standards at www.stop-illegal-tobacco.co.uk or call the Illegal Tobacco Hotline on 0300 999 6 999. 
The initiative is part of work to improve health outcomes through East Sussex Better Together, and as part of Connecting4You in the west of the county. Partners including East Sussex Public Health, Sussex Police, East Sussex Fire and Rescue Service, HMRC, Trading Standards and other stakeholders are working together through the East Sussex Tobacco Partnership to implement a comprehensive programme of action to reduce demand and drive out supply of illegal tobacco in East Sussex.
What should you look out for when it comes to illegal tobacco being sold?
Illegal tobacco can sometimes be hard to spot, but if you come across anyone selling tobacco products look out for the following
• Price less than half the usual retail price.
• Missing 'UK Duty Paid' stamp.
• No health warning.
• Foreign language on packs – specifically the health warning.
• Printing errors on the pack.
• Unusual taste and smell.