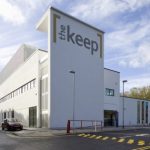 THE Keep archive centre is throwing open its doors to give the public the chance to find out about the conservation of Sussex's historic artefacts.
Archive material celebrating science and architecture, held by The Keep's partners, will be on display at the centre in Moulsecoomb on Saturday, September 9.
Experts will be on hand to give behind-the-scenes tours, talks and practical advice on researching family history, and visitors can visit the conservation studio and get involved in hands-on activities.
"This is a wonderful opportunity to see the work we do here at The Keep," said Christopher Whittick, County Archivist.
"The open day, part of Brighton and Hove Open Door 2017, coincides with the British Science Festival so the focus of the day will be on architecture and science."
He added: "As well as learning about our fascinating collections, visitors can get advice from experts on researching the history of their house or other buildings in the county or archaeology in the local area.
"There will be plenty of informative, fun things for visitors of all ages to get involved in and we hope as many people as possible come along, find out about our work and enjoy the day."
Those attending the open day can find out about the Volks Electric Railway and its inventor with a talk by Peter Williams at 11.15am, while art historian and curator Alexandra Loske will share rarely-seen views of the Royal Pavilion Estate dating back to the 1760s in a talk at 2pm.
The open day runs from 10am to 3.30pm.