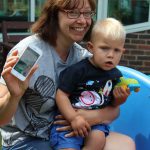 PREGNANT women, new mums and their partners can benefit from a free app aimed at helping them with the transition to parenthood.
East Sussex County Council is supporting the use of the Baby Buddy app, which helps pregnant women and new mothers stay healthy and well, whilst ensuring their baby's physical and emotional development.
Around 10 to 20 per cent of women experience mental health problems during and in the first 12 months after pregnancy, meaning around 900 new mums in East Sussex are likely to be affected each year.
The app can help mums with issues such as bonding, social isolation and breastfeeding and also lets them keep on top of appointments and keep a list of questions to ask their midwife or health visitor.
It also allows them to store pictures of their growing baby bump or baby and get personalised advice and support.
Joanne Penfold, from Polegate, benefited from using the Baby Buddy app while she was pregnant with her son, Triston.
She said: "What I really liked about the app was that it could cheer me up first thing in the morning by making me feel I'd achieved something.
"I felt I knew what was going on because it would confirm what my midwife had said. There are lots of apps out there but this one had the NHS logo so I felt I could trust it."
The Baby Buddy app sends personalised daily information and support to parents and can provide expert advice accredited by healthcare professionals.
As well as featuring information on issues such as depression or anxiety, the app can help women find local services and support groups, which can help with bonding and breastfeeding and reduce isolation and post-natal depression.
Unlike many free pregnancy apps, which require payment after a few weeks or months, Baby Buddy is free of charge throughout.
Cynthia Lyons, East Sussex acting director of public health, said: "Pregnant women and new mums too often find it hard to talk about the issues they're facing or can't get advice at the exact time that they want it
"This app has proved to be invaluable in offering guidance and support and enabling people to have their questions answered between midwife or health visitor appointments, or access additional support in their local area."
The app has been developed by the national charity Best Beginnings and is endorsed by organisations including the Department of Health and the Royal College of Midwives.
Baby Buddy can be downloaded from Google Play or the Apple App Store. More information is available at www.bestbeginnings.org.uk/baby-buddy