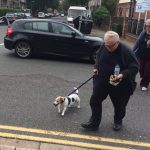 AN Anglican priest who ministers to the terminally ill has been handed a community penalty after being caught red handed fraudulently using a dead woman's Blue Badge.
Father William Haymaker was given a 12-month community order with a requirement to carry out 200 hours' unpaid work and ordered to pay £3,700 in costs in a hearing at Hove Crown Court today (Monday, September 11 2017).
Sentencing the 63-year-old, Judge Christine Henson told him: "You used a disabled person's Blue Badge that did not belong to you to commit fraud. You've been convicted of a serious offence and you must be punished for it."
Haymaker, of Suffolk Road, Bexhill, was caught in December 2015 parking his car in a disabled bay in the town using a Blue Badge belonging to a woman who had died two months earlier.
The priest, who provides pastoral support to the terminally ill and works with troubled children in Romania and Moldova, denied the offence but was unanimously found guilty of fraud by a jury at Chichester Crown Court in March.
Mark Jobling, East Sussex County Council Blue Badge investigation officer, said: "As an ordained priest, Haymaker is someone in a position of considerable responsibility and trust, who ought to set a good example for others to follow.
"Instead, he shamelessly used a Blue Badge belonging to a woman who had died and then tried to talk his way out of trouble with a series of excuses the jury unanimously rejected.
"Blue Badge fraud is not a victimless crime and every time someone uses a badge illegally they are denying a disabled parking space to people who genuinely need one.
"This successful prosecution should demonstrate that we treat these offences with the utmost seriousness and won't hesitate to bring offenders to justice through the courts."
When interviewed by the county council's Blue Badge investigation officer, Haymaker claimed he had meant to use a badge belonging to one or two different people, one of whom he claimed to have dropped off at a doctor's surgery in Bexhill.
After investigations found this was untrue, he still refused to admit the offence and pay a fine, and at trial named yet another woman he thought the badge had belonged to, although she had never owned a Blue Badge.
When confronted with these facts, he went on to claim he hadn't realised he had parked in a disabled bay at all, an account rejected by the jury, which took 45 minutes to find him guilty of possessing an article used in fraud.
Anyone who has information regarding misuse of Blue Badges is asked to report it by calling 01323 464244 or emailing badgefraud@eastsussex.gov.uk
Video taken outside court for today's hearing: