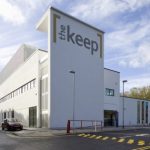 EVENTS are being held at an East Sussex archive centre as part of a programme of activities for Older People's Day.
This year marks the 10th anniversary of the celebration of the contribution of older people, with activities running across the county under the theme 'Full of Life'.
The Keep, in Moulsecoomb, is holding tours of the centre, allowing people to find out more about how it documents the past, followed by tea and cake.
The events will be held on Monday, October 9 2017 from 10am to 11.30am and on Tuesday, October 24 2017 from 10am to 11.30am and cost £3, including tea and cake.
Meanwhile, free drop-in sessions and local history surgeries, at which staff members will be on hand to help people get started in researching local and family history, will be held on Wednesday, October 11 2017 and Wednesday, October 25 2017 from 11am to 1pm.
Cllr Carl Maynard, East Sussex County Council lead member for adult social care, said: "We're proud to support Older People's Day, which recognises the important role older people play and the valuable contribution they make to communities across the county."
The Older People's Day programme is supported by East Sussex County Council, Clinical Commissioning Groups and East Sussex Seniors' Association, in partnership with leisure centres, local councils, charities and community and voluntary organisations.
The programme can be picked up from local libraries, leisure centres, council offices and voluntary organisations or downloaded from www.eastsussex.gov.uk/olderpeoplesday
More information about events at The Keep is available by calling the centre on 01273 482349, emailing thekeep@eastsussex.gov.uk or online at www.thekeep.info/events