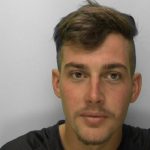 A FORMER cocaine addict with a £400-a-day habit who conned pensioners in a roofing scam has been ordered to pay back a large chunk of his ill-gotten gains.
William Jones was jailed for 16 months in December following a prosecution by East Sussex County Council after he tricked elderly residents into handing over cash for unnecessary, overpriced and sub-standard roofing work.
Jones, of Butts Field, Hailsham, has now been ordered to pay back over £15,000 in compensation to the 69-year old woman from Heathfield and 81-year-old man from Midhurst whom he conned out of a total of £18,150.
In a confiscation hearing at Hove Crown Court, the 22-year-old, currently serving time at HMP Lewes, said he had passed £12,000 of the money to two unnamed associates and used the rest to fund a four-gram-a-day cocaine habit costing up to £400 a day.
However, this account was not accepted by Judge Christine Laing, who awarded a confiscation order of £15,021.61, comprising £2,000 of his share, the £12,000 he'd passed to associates and £1,021.61 of cash, jewellery and other assets seized from the defendant.
Cllr Bill Bentley, county council lead member for communities and safety, said: "This is a tremendous result for the victims of these despicable crimes, but the compensation won't make up for the toll these offences have taken on their lives.
"Jones deliberately targeted elderly and vulnerable victims, conning them out of substantial amounts of money they could ill afford to pay, for work they didn't need.
"I'd like to commend the unstinting efforts of our Trading Standards officers, who work tirelessly to bring offenders to justice and to prevent others from falling victim."
In December, Jones received seven concurrent 16-month jail sentences, after admitting five counts of fraud and two counts of entering into a money-laundering agreement between March and May last year.
In addition to the two victims to whom he must pay compensation, he tricked a third victim, aged 96, into paying him £9,000 but the cheque was stopped by eagle-eyed bank staff.
If he doesn't pay back the money in full within three months, Jones will face an additional 12-month jail term and will have to pay eight per cent annual interest on the balance until the full amount is paid.
Anyone who believes they, or someone they know, has been a victim of scammers, or is aware of a scam happening, is asked to report it by calling the Citizens Advice consumer service on 03454 040506.
More information on spotting and avoiding being a victim of scams can be found on the Citizens Advice website at www.citizensadvice.org.uk/consumer/scams/scams/