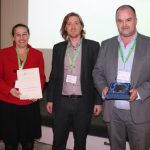 THE "outstanding" service offered by the county's Registration team has received national recognition.
East Sussex County Council's Registration Service picked up the Award for Excellence in Service Delivery at a special ceremony.
The team, which provides birth, marriage and death registration across the county, received the award from the Local Registration Services' Association (LRSA).
Judges were impressed by efforts to improve the experience of clients while the service faced challenging savings requirements and a staff restructure.
Steve Quayle, the Registration Service team manager, said: "We are absolutely delighted to receive this award in recognition of the effort every member of the team has made over the past year.
"We understand the importance of the unique needs of our customers and have done everything possible to give them a personal service which allows them to drop in and talk to us or reach us directly on the phone or by email.
"The financial pressures faced by local authorities have put a greater emphasis on income generation, but this has not stopped us from striving to provide excellent customer service."
As well as its first class service, the team was praised by judges for its continuous approach to improvement and partnership working and its training programme.
Cllr Bill Bentley, lead member for communities, said: "I'd like to add my congratulations to the Registration team. This national accolade is well deserved and is recognition of the hard work every dedicated member of staff has put in to making this service a success.
The team has overseen the recent move of Hastings Register Office to the historic Hastings Town Hall and the complete refurbishment of the Grade II* listed Southover Grange in Lewes to create a state-of-the-art register office and ceremonies venue.