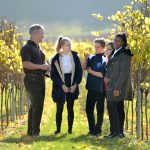 A SCHEME which enables young people to experience the world of at work first hand is returning to East Sussex.
Two vineyards, a five-star hotel, an animal welfare charity, a nuclear power plant and leading manufacturing and creative businesses are among the businesses taking part in this year's Open Doors.
The initiative, aimed at boosting young people's career prospects and inspiring career choices by enhancing their knowledge and experience of the workplace, runs from November 6 to 30.
A total of 29 local employers have signed up for the scheme, which will see more than 250 students from 18 schools visit and tour businesses, talk to staff and take part in activities.
Open Doors, which first ran last year, is run by East Sussex County Council and supported by Skills East Sussex, the county's strategic body for employment and skills.
Cllr Rupert Simmons, county council lead member for economy, said: "Last year's Open Doors was a great success and allowed young people to gain a valuable insight into a range of different types of business.
"Evidence shows that the more exposure schoolchildren have to the workplace, the more likely they are to be in employment, education or training as adults.
"There is also evidence that students who have ideas about their future careers make more of their school education opportunities.
"Taking part in a scheme such as this allows young people to learn more about what will be expected of them when they go into employment, easing the transition between study and work."
Case studies – businesses taking part in this year's Open Doors scheme:
Emily Perrot, marketing manager at BarkWeb, in Eastbourne, said: "We are really pleased to be taking part in Open Doors and look forward to welcoming students into our offices to show them what goes on behind the scenes of a digital agency.
"We are proud to be able to contribute in this way and provide students with an insight which may inspire them in their future career choices."
Dave Mooney, managing director at Drallim Industries Ltd, in St Leonards, said: "We took part in Open Doors last year and we are very happy to be participating again in 2017. We are looking forward to seeing more students this year.
"The country needs engineers – both male and female – and we are happy to open our doors for young people to come and see what engineering looks like today."
Nick Holdcroft, director at Horlock Holdcroft, in Uckfield, said: "We are really pleased to be taking part in the Open Doors project for the second year running.
"We are delighted to help out our local schools and we see great value in educating students about what lies beyond the school gates. Financial planning is an important part of everyone's lives, often overlooked by the younger generation, and we want to change that."
Schools taking part are:
Bexhill Academy, Chailey School, Lewes, Claverham Community College, Battle, Hastings Academy, Heathfield Community College, Peacehaven Community School, Priory School, Lewes, Ratton School, Eastbourne, Ringmer Academy, Robertsbridge Community College, Saxon Mount School, Hastings, St Catherine's College, Eastbourne, St Leonards Academy, Seaford Head Academy, Seahaven Academy, Newhaven, Sussex Downs College, Eastbourne, Uplands Community College, Wadhurst, ARK William Parker Academy, Hastings.
Business taking part are:
Rathfinny Wine Estate, Alfriston, De La Warr Pavilion, Bexhill, Prosperity IFA, Crowborough, Ditchling Museum, Ridgeview Wine Estate, Ditchling, EDF Dungeness Plant, Airtrace Sheet Metal, Eastbourne, Barkweb, Eastbourne, Cohub, Eastbourne, GM Monk, Eastbourne, St Wilfrid's, Eastbourne, The Grand Hotel, Eastbourne, RSPCA, Fairlight, The Keep, Falmer, Metaltech, Hailsham, Hastings Borough Counci,l Charleston, Lewes, East Sussex County Council, Lewes, East Sussex Highways, Lewes, Rampion Offshore Wind, Newhaven, Veolia, Newhaven, CDS Electrical, Polegate, Drallim Industries, St Leonards, General Dynamics, St Leonards, Let's Do Business, St Leonards, Ashdown Audio Visual, Uckfield, Horlock Holdcroft, Uckfield, TR Fastenings, Uckfield.