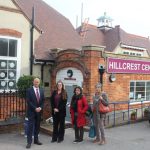 RESIDENTS around Newhaven are seeing the benefits of funding from the town's energy plant with the completion of two community projects.
An all-weather path alongside the river Ouse in Piddinghoe has been created and interpretation boards explaining the history of Tide Mills erected, using money left over from landscaping around the Newhaven Energy Recovery Facility.Earlier this year East Sussex County Council announced it would fund eight community projects in the town and surrounding area, using £400,000 left over from a £900,000 funding pot set aside by Veolia to reduce the visual impact of the facility.
Cllr Nick Bennett, the county council's lead member for transport and environment, visited the area to check on the progress being made.
"The eight projects benefiting from this money will make a real and lasting difference to the people of Newhaven and surrounding area," he said.
"I was delighted to see that two of these have already been completed, with a number of others nearing completion.
"I'm grateful to Veolia for agreeing that the money, left over once work to lessen the visual impact of the Newhaven Energy Recovery Facility was completed, could be spent on projects that will have a positive effect on the community."
Three other projects are close to completion including a new roof at Hillcrest Community Centre, the development of an education centre at Newhaven Fort and the restoration of a dew pond at Castle Hill.
It is hoped all outstanding projects will be completed by May 2018. These include;
Restoring and relining Castle Hill dew pond and installing new interpretation boards (£7,200)
A new roof at Hillcrest Community Centre, in Newhaven (£158,300)
Newhaven Fort Education Centre – an ancient history education centre showing life from the Palaeolithic to the Iron Age (£55,000)
A new telephone system and computer equipment to offer Citizens Advice services for people in Newhaven area (£8,900)
A new bespoke, local artist-designed timber and metalwork bandstand on Denton Island (£22,700)
New play equipment and planting at The Hollow recreation ground in South Heighton (£119,300)
The Newhaven Energy Recovery Facility – sometimes referred to as Newhaven Incinerator – was granted planning permission in 2007. One of the planning conditions was that money be paid to mitigate the visual impact of the facility.
The NERF opened in 2012 and converts around 210,000 tonnes of non-recyclable waste a year into enough power to supply 25,000 homes.