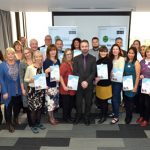 A SCHEME helping vulnerable people in East Sussex to live independently in their own homes is appealing for new recruits.
Support with Confidence, run by East Sussex County Council, vets and approves personal assistants and other care providers for quality, training and safety.
Of the 195 approved members, there are currently 133 personal assistants but the scheme manager has called for more personal assistants to sign up.
The call was made following a special ceremony in Eastbourne, where the latest 29 Support with Confidence members were welcomed.
Cllr Carl Maynard, the county council's lead member for adult social care, said: "Support With Confidence gives people the peace of mind that they are employing someone they can trust.
"It's great to see so many new members joining the scheme and playing such a vital role in helping people to stay in their own homes and live independently."
He added: "The more people we can recruit to the scheme, the more choice and confidence we can give those in need of a little extra help.
"I would urge anyone working as a personal assistant, as well as providers of home care, community support services, day services for people with dementia, mental health outreach services and independent financial advisers, to consider the Support With Confidence scheme."
Anyone who's interested in becoming an accredited personal assistant is asked to call 01323 463440 or email supportwithconfidence@eastsussex.gov.uk
More information about Support With Confidence scheme is available online at www.eastsussex.gov.uk/supportwithconfidence