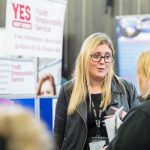 MORE than 800 young people and their parents and carers were given an insight into the world of work as part of National Apprenticeship Week.
East Sussex County Council, in partnership with Apprenticeships in Sussex, hosted events in Eastbourne and Hastings, giving hundreds of young people the chance to find out if apprenticeships and traineeships were right for them.
Cllr Bob Standley, the county council's lead member for education and inclusion, special educational needs and disability, said: "These events were a great success and offered young people a valuable opportunity to get a real-life insight into the opportunities available to them.
"Apprenticeships offer a wonderful opportunity for young people to take the first step onto the career ladder and earn money while training and gaining qualifications from entry level to the equivalent of a master's degree."
Those attending the apprenticeship roadshows got the chance to talk to employers and training providers about the opportunities available and hear from apprentices, employers and training providers about what apprenticeships involve.
Mal Laurie, quality and HR manager for Ellis Builders in Eastbourne – one of many companies represented at the events, said: "Events like the Apprenticeship Roadshow are really important for Ellis as it provides a platform to promote the construction industry as an exciting career opportunity.
"It is also a useful forum in which to have meaningful discussions with students and their parents, answer questions and provide first-hand information about career opportunities and path options.
"Selecting and making choices is really daunting for young people and the Apprenticeship Roadshow event provides one of the few opportunities students get to speak to employers directly face to face which builds confidence and helps students and employers make more informed choices."
Scott Monk, managing director at G M Monk Ltd – an electrical contractor based in Hailsham – attended the event in Eastbourne.
"The evening was a huge success for attracting new apprentices who may have left college or who are leaving college shortly," he said.
"The enthusiasm and interest shown by the attendees for apprenticeships across all sectors was unbelievable and shows how much local interest there is in the apprentice scheme with local companies."
Mark Baldwin from Talkative Online, a digital marketing agency based in Bexhill, added: "Apprenticeships are an excellent way to get into an industry, where the speed of change on platforms such as Facebook, make conventional training impractical," he said. "Training apprentices has enabled us to develop the use of various, complex software for our customers, as well as gain our Google Partner Status."
"This has helped the company and the trainees tremendously, who've gained knowledge and experience that will read very well on any CV they write in the future."
Young people interested in becoming an apprentice can find out more by calling 0800 0150 400 or visiting apprenticeships.gov.uk
Anyone aged 16-19 who needs further support, can contact the East Sussex Youth Employability Service (YES) on 01323 410803 or 01424 722045, or message them at facebook.com/yeseastsussex
Businesses interested in hiring an apprentice, can call the National Apprenticeship Service on 0800 015 0600 for information and advice. Alternatively visit apprenticeships.gov.uk
Ends.