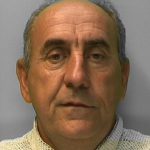 A ROGUE trader who charged an elderly man £26,700 for work that was never started has been jailed.
Patrick Charles Lemmon, 56, of Ersham Road, Hailsham, was sentenced to 42 months in prison after being convicted by a jury of two counts of fraud and seven counts of money laundering.
Lemmon, who traded as Regency Paving Company from premises in Cooden Sea Road, Little Common, Bexhill told his 83-year-old victim he needed a new conservatory roof and replacement glass panel.
Between May 13, 2015 and June 11, 2016, Lemmon took five cheques from his victim but never started the work. The victim received no paperwork; a quote, cancellation rights or receipts of payment. Three of the five cheques were paid to third parties by Lemmon.
During an investigation by East Sussex Trading Standards, an independent building surveyor concluded that, while the replacement pane of the glass was necessary, the roof of the conservatory did not need replacing. He said a fair and reasonable cost for both pieces of work combined would have been £1,305 inclusive of VAT.
Following a four day trial, in which barrister Damian Powell from Ropewalk Chambers acted on behalf of East Sussex Trading Standards, a jury took less than an hour to convict Lemmon of all charges.
Sentencing, His Honour Judge Tain said Lemmon had taken advantage of an elderly man in a poor state of health and forced him to go through the ordeal of giving evidence at trial.
He said Lemmon was "not an inexperienced crook" with convictions for offences of dishonesty and a County Court Injunction and a suspended sentence for breaching that injunction on his record.
As well as sentencing Lemmon to 42 months, Judge Tain imposed a victim surcharge of £170. Orders for compensation will be dealt with as part of Proceeds of Crime Act proceedings, which will take place over the next few months.
Richard Strawson, East Sussex Trading Standards manager, said: "This was a callous act on a vulnerable member of our community. I am pleased that justice has been served, and hope that we can help recover at least some of the money that the victim has paid out.
"This is another successful prosecution taken by the council's Trading Standards team and highlights that rogue traders who dupe people out of their money will not be tolerated and will be prosecuted.
"I would urge members of the public to be on guard when they receive unsolicited knocks on the door, leaflet drops or telephone calls, and to look out for your neighbours, friends and family who may be susceptible to this kind of heartless criminality."
If you, or someone you know, is vulnerable and has been a victim of fraud contact Sussex Police on 101. To report fraud or attempted fraud, visit www.actionfraud.police.uk or call 0300 123 2040.
For consumer advice, or to report a concern to Trading Standards, contact the Citizens Advice consumer helpline on 03454 040506, or by using their online reporting page which can be found at www.eastsussex.gov.uk
Ends.