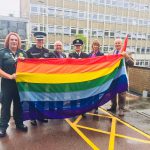 THE rainbow flag has been raised over County Hall, in Lewes, to mark this year's Brighton & Hove Pride celebrations.
Representatives from East Sussex County Council, Sussex Police, East Sussex Fire and Rescue Service, South East Coast Ambulance Service and Sussex Community NHS Foundation Trust were in attendance.
The flag is raised every year to support for the event – held this year from Friday, August 3 to Sunday, August 5 2018 – which attracts hundreds of thousands of visitors.
Cllr Keith Glazier, East Sussex County Council leader, said: "Pride is a major event on our doorstep which brings in tourists from around the world and we're delighted to be able to give our backing to the event and to the LGBTQ community."
Dawn Whittaker, chief fire officer for East Sussex Fire & Rescue, said: "The Pride events across the county and the city are a celebration of equality and diversity of our communities and a great way for our service to demonstrate our support. Fires don't discriminate – and we are here to support everyone."
SECAmb Specialist Paramedic and Deputy Chair of Pride in SECAmb Steph Meech said: "I am privileged to once again represent South East Coast Ambulance Service in joining other colleagues in the raising of the Pride flag.
"With this year being the 70th anniversary of the NHS we have even more to celebrate. As ever, we're expecting a large turnout from our staff and pleased that we'll be joined by colleagues from other ambulance services around the UK. We are rightly proud of all our staff and looking forward to the big day."
This year's event includes the Pride Festival at Preston Park on Saturday, headlined by pop superstar Britney Spears, annual parade through the city on the same day and Pride Village Party in and around St James's Street on Saturday and Sunday.
More information about this year's Pride is available at www.brighton-pride.org