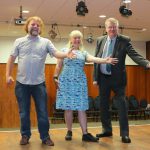 THE new operator of an Eastbourne theatre has pledged to turn it into a professionally-run 'community hub' for live music, performance and the arts.
East Sussex County Council has decided to lease the theatre below the town library to newly-formed community interest company Performance Initiative Eastbourne (PIE).
The company is headed by Shoes Simes – owner of The Eagle and the Dew Drop Inn and a licensee with 18 years' experience running venues – and Dave Izumi – record producer, promoter and owner of Echo Zoo recording studios.
They have pledged to work with national promoters and theatre companies to bring high-quality events to the town, with talks already underway to book high-profile touring acts.
A varied programme is envisaged which would encompass theatre performances, music tuition, training and workshops, comedy nights, poetry and book readings and film screenings, while the venue would also be available for hire by community groups.
The company would seek to retain some of the most popular elements of the theatre's previous programme, which were enjoyed by local residents.
Meanwhile, PIE has pledged to develop a fund to enable local performers to hone their skills, to work with disadvantaged groups and to use the theatre as the base for a new community radio station.
Director Shoes Simes said: "We're extremely pleased and excited to be chosen and are just looking forward to doing the best possible job we can and providing a thriving community hub for Eastbourne.
"Our aim is to provide a programme of events with something for everyone but we're also conscious that there's a massive gap in the market for a smaller music venue in the town to help bring through new talent – not just bands but people who want to get involved in promoting and running events themselves.
"The community involvement is the most important thing for us – we'll be using our professional knowledge to generate funds to do good work for the community and we want to reach out to people of all age groups and backgrounds."
PIE has pledged to use any profits from cultural events to offer community and social support, to offer young people the chance to attend cultural events and promote their own events and to help to tackle loneliness by enabling like-minded people to meet up and make friends.
The company was selected from five applicants, all of whom were scored against criteria including their experience in running venues, their vision for the theatre and planned programme of events.
Cllr Bill Bentley, East Sussex County Council lead member for communities, said: "The quality of applications we received was extremely high and we're grateful to all the groups who applied.
"What particularly impressed us about the bid from PIE was the exciting and innovative vision they have for creating a cultural hub which provides high-quality entertainment and places itself at the heart of the community.
"They were also able to demonstrate a long-term financial commitment to the theatre and bring with them vast experience and commercial expertise in running venues and staging live events, which should put the venue on a sound footing for many years to come.
"This is a modern project driven by local entrepreneurs for local people and I look forward to an exciting programme of music, art and theatre events."