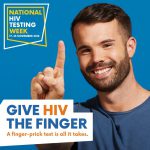 PEOPLE in East Sussex who may be at risk of HIV are being urged to get themselves tested for the virus – using a simple, free test that can be done at home.
East Sussex County Council's public health team is backing National HIV Testing Week, running under the slogan 'Give HIV the finger', which starts on Saturday, November 17 2018.
Testing for HIV can be done at home using a finger-prick testing kit which can be ordered online and returned free of charge, with results provided within days.
Almost two in every 1,000 people aged 15 to 59 in East Sussex have been diagnosed with HIV, but the rates in Eastbourne, Hastings and Lewes are higher and national guidelines recommend that additional efforts are made to tackle the virus.
While rates are lower in Rother and Wealden, those areas have far higher than average rates for late diagnosis of HIV, which is damaging to health.
Darrell Gale, East Sussex Director of Public Health, said: "Some very effective treatments exist today for HIV, but the sooner someone is diagnosed, the better it is for their long-term health.
"Most people who get HIV are infected by someone who doesn't know they have it, so getting tested also plays an important role in halting the spread of the virus.
"The good news is it's never been easier for people in East Sussex to get tested, so I'd urge anyone who thinks they may be at risk of having HIV to take the test as soon as possible."
People can use the 'When To Test' tool at http://www.startswithme.org.uk/when-to-testfor advice on when they should get tested.
Free home sampling test kits can be ordered from www.eastsussexsexualhealth.co.uk, are posted within a few days in discreet packaging and can be returned in the Freepost packaging provided.
Results are provided in the way requested within a few days. Full support is available from the NHS for anyone who receives a positive result.
People can also get tested at their local GP or specialist sexual health clinic, while information on services available in the county can be found at www.eastsussexsexualhealth.co.uk
More information about National HIV Testing Week, run by HIV Prevention England, is available at www.startswithme.org.uk or on Twitter under the hashtag #HIVTestWeek
HIV diagnosis (per 1,000 people aged 15 to 59)
England 2.32
East Sussex 1.80
Eastbourne 2.36
Hastings 2.48
Lewes 2.19
Rother 1.52
Wealden 0.88
HIV late diagnosis (%)
England 44.0
East Sussex 44.0
Eastbourne 42.9
Hastings 31.6
Lewes 33.3
Rother 71.4
Wealden 70.0