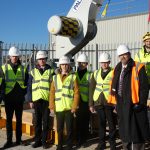 HUNDREDS of students from across East Sussex will be given a taste of the world of work as a popular scheme returns to the county.
Open Doors 2018 launches on Monday, November 5 with 44 businesses from Dungeness to Forest Row giving students the opportunity to get an insight into their businesses.
A range of experiences are available for the 500 students from Years 7 to 13 taking part in the four week event, with businesses including a five star hotel, a dance theatre, a gallery, a bank, a wildlife charity and an offshore wind farm. East Sussex County Council and three of the county's MPs will also be opening their offices this year.
The aim of the initiative, which is run by East Sussex County Council and supported by Skills East Sussex, is to boost the career prospects of young people and inspire career choices by enhancing their knowledge and experience of the workplace.
Cllr Bob Standley, the county council's lead member for education and ISEND, said: "The Open Doors project provides a wonderful experience to young people to visit workplaces and hear first-hand from employers about the types of jobs available to them and the career paths they need to take to achieve success.
"It is encouraging to see that we have been able to build on the success of last year and have attracted almost double the number of businesses to open their doors to more students than ever."
"This scheme gives students from across East Sussex essential knowledge and experience to shape their own futures, and provides employers with the opportunity to engage with young people who could form their future workforce."
Last year's event gave more than 300 pupils the opportunity to learn about a diverse range of East Sussex-based jobs.
Students' feedback was positive, with participants saying the experience would help them make future learning and career decisions and one company was able to sign up two visiting students as future apprentices.
Businesses taking part include;
Amber Rudd MP, Hastings; Ashdown Audio Visual, Uckfield; Ashdown Hurrey, Hastings; Ashdown Park Hotel, Forest Row; Barkweb, Eastbourne; Cheesmur, Lewes; Colours Ltd, St Leonards; De La Warr Pavilion, Bexhill; Ditchling Museum of Art & Craft, Ditchling; Drallim, St Leonards; East Sussex Highways, EDF, Dungeness; Faithful & Gould, Tunbridge Wells; Focus SB, St Leonards; G M Monk, Eastbourne; General Dynamics, St Leonards; Glyndebourne, Glynde; Horlock Holdcroft, Uckfield; Huw Merriman, Bexhill; Jerwood Gallery, Hastings; Jurys Inn, Brighton; Marshall Tufflex, St Leonards; Metaltech, Hailsham; Metro Bank, Eastbourne; Morgan Sindall, Willingdon, Redhill, Brighton; Mildren Construction, Eastbourne; NHS, Hove; Oakland Care, Hastings & Eastbourne; Rampion Offshore Wind Farm, Newhaven; Ridgeview Wine Estate, Ditchling; RSPCA, Hastings; SLM Motors, Uckfield; Stephen Lloyd MP, Eastbourne; Sussex Community Development Association, Newhaven; Sussex Wildlife Trust, Rye; Talkative Online, Hastings; The Bevern Trust, Barcombe; The Depot, Lewes; The Grand Hotel, Eastbourne; The Towner, Eastbourne; TR Fastenings, Uckfield; Vincent Dance Theatre, Brighton.