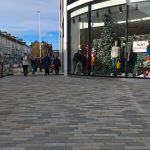 SHOPPERS searching for the perfect Christmas presents will be given room to roam as work to transform Eastbourne town centre is scaled back.
As the festivities get into full swing, fencing will is being reduced and machinery moved to reveal more of the new paving laid as part of the major scheme to revitalise the centre.
While some traffic management will need to remain, contractors Mildren Construction Ltd will be downing tools and removing some fencing in parts of Cornfield Road South, Terminus Road and Gildredge Road.
But it will not be a quiet Christmas for those working on the joint project between East Sussex County Council and Eastbourne Borough Council, who will continue to carry out unobtrusive and localised work across the site.
During the festive period, the bus lane in Terminus Road East and the carriageway in Terminus Road West and a section of Cornfield Road will be re-laid using modern granite paving, work to the pavement in Cornfield Road between Lushington Road and Hyde Gardens will continue and kerbing and footway works will take place in Gildredge Road.
"Christmas is such an important time for our local traders and it is vital we do as much as we can to support them and the local economy," said Cllr Nick Bennett, lead member for transport and environment at East Sussex County Council
"Clearing sections of the site will give more space to shoppers and to the popular Terminus Road market, which sells locally made crafts, gifts and local produce, which will run again this year between Friday, November 30 and Sunday, December 23."
Cllr Bennett added: "The scheme in Eastbourne is one of the biggest town centre projects we have undertaken and, while construction brings inevitable disruption, the end result will be one that benefits the town for generations to come."
The £8.25 million Eastbourne Town Centre Improvement scheme began in 2015 with the construction of a new taxi rank next and improvements to the entrance to Eastbourne railway station, but the main phase started in March this year.
The ambitious scheme is transforming and modernising the town centre to create a more attractive and pedestrian friendly shopping experience. Pavements are being widened to double their original width, new seating and landscaping introduced, new bus lanes and bus shelters being installed and a high-quality granite road surface is being laid.
The project, which complements the redevelopment of the Arndale Centre, will drastically reduce traffic in the section of Terminus Road known as 'Diesel Alley' and, in turn, reduce pollution.
Following the pause for the busy festive period, all work will resume in January, with a major portion of the scheme expected to be completed by late autumn.
More information is available on the Eastbourne Town Centre Improvement Scheme website
Ends