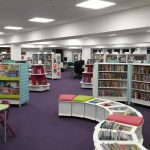 AN East Sussex library is welcoming back residents after reopening today (Wednesday, January 2 2019) following a refurbishment project.
The new-look Crowborough Library, at Pine Grove, boasts an expanded children's area, a newly created space for teens and young adults and comfy reading locations with new furniture.
Since the scheme, carried out at the same time as a Crowborough Town Council project to install new windows in the Pine Grove complex, began at the end of November, the library has been running from a temporary location at Beacon Academy.
To mark the reopening, people are invited to come along and see the new-look facility and enjoy a cup of tea and slice of cake on Saturday, January 26 2019 from 11am.
Cllr Bill Bentley, East Sussex County Council lead member for communities, said: "The new-look library provides a more comfortable, modern space while new LED lighting will provide long-term savings on our energy bills.
"Carrying out this refurbishment at the same time as the window replacement enabled us to avoid further closures but we appreciate there has been some disruption and would like to thank customers for bearing with us.
"I would like to thank the library staff team for all their hard work in maintaining a temporary library for residents of Crowborough while the refurbishment was carried out.
"I am sure they are looking forward to seeing their customers once again back in their Pine Grove home, and I'd encourage people to pop along, say hello and see what's new."
Improvements include new free access computer desks where people can plug in their own Wi-Fi devices and new stock ranging from children's fiction and non-fiction to local studies, crime and biographies.
Customers are advised that the Pine Grove redevelopment work is continuing and therefore for the time being entry to the library is via the back door, while they are also asked to take care around construction vehicles on site.
The library improvement scheme was funded from the county council's capital budget –
money set aside for investment in buildings and infrastructure.