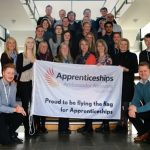 COUNCIL leaders are showing their support for training in the workplace by flying the flag for National Apprenticeship Week.
Apprentices working at East Sussex County Council, and in its schools, joined council leader Cllr Keith Glazier and Chief Executive Becky Shaw to raise the flag at County Hall on Monday, March 4.
The authority is supporting the week, which runs until Friday, March 8, by holding two apprenticeship roadshows in Eastbourne and Hastings and organising a series of pop-up information events across the county.
Cllr Keith Glazier said: "Apprenticeships offer people of any age a great opportunity to train and gain qualifications, from entry level to the equivalent of a master's degree, while earning money and getting experience within an industry.
"As well as supporting economic growth in East Sussex, we are committed to ensuring there are plenty of opportunities in the county for those wanting to take the first step on the career ladder, retrain or develop their career."
With additional funding available from April 2019, the county council will also use the week to encourage businesses to hire apprentices and help staff development and progression.
Under Government rules, the county council pays an apprenticeship levy of more than £1 million a year into a digital account and this money can be spent on apprenticeship training for new and existing staff, including in schools.
From April this year, the council will be able to use 25 per cent of this money to support other businesses across the county in offering training and development. This funding will help businesses access high quality training and help them build the skilled workforce they need to thrive.
Businesses interested in taking advantage of the apprenticeship funding can find out more by contacting the Apprenticeship Levy Team at apprenticeships@eastsussex.gov.uk
Anyone interested in becoming an apprentice can find out more by calling the national helpline 0800 0150 400 or visiting www.apprenticeships.gov.uk
Anyone aged 16-18 who needs further support, can contact the East Sussex Youth Employability Service (YES) on 01323 410803 or 01424 722045, or message them at facebook.com/yeseastsussex
Businesses interested in hiring an apprentice, can call the National Apprenticeship Service on 0800 015 0600 for information and advice. For support with funding apprenticeship training for new and existing staff in East Sussex visit www.apprenticeships.gov.uk
Roadshows were held at Eastbourne Town Hall on Tuesday, March 5 and Hastings Library on Wednesday, March 13 from 5pm to 7pm on both days.
Pop-up information events held during National Apprenticeship week include;
Crowborough – Community Centre, Pine Grove – Monday, March 4 – noon to 3pm
Uckfield – Tesco, Bellfarm Road – Tuesday, March 5 – 10am to 1pm
Heathfield – Sainsburys, Station Road – Thursday, March 7 – 10am to 1pm
Lewes – Waitrose, Eastgate Street – Friday, March 8 – 4 to 7pm
Newhaven – Sainsburys, The Drove – Friday, March 8 – 11am to 2pm
Hailsham – Vicarage Fields Market – Saturday, March 9 – 10am to 1pm